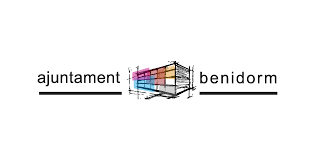 Apply at : https://sede.benidorm.org/catalogo-de-servicios/AYUFAM/
At the bottom of the above page are the application form and bank details form that you must download and fill in.

Or if you can not do it online you can make an appointment at one of the councils administrative extension offices at: https://benidorm.org/es/cita-previa#services and bring the two forms and documents required with you.
The aid is for 3 months and starts at 200 euros a month to 350 euros, depending on family size. It is available for people who have an income less than 1129,86 a month with increased threshold according to circumstances.
To claim you can not be receiving other benefits: eg PEI, IMV, rent aid from GVA. You must have been on the Benidorm Padron since 31st Dec 2020.
Your income must have been reduced because of unemployment, ERTE, reduced hours or if autonomo to have ceased trading from any period from March 2020 up to date of claim.
If you go to the webpage, at the bottom you must download and fill and sign application and bank detail form, then go to the top of page and Click Iniciar to do the claim online. There is a list of documents to attach. You should attach all of them that is relevant to you. If you cant do it online, fill in the two forms and take them with all relevant documents to an appointment at the council office.
On the online form you should only write in Spanish. egExpone. Estoy en paro, recibo 350 euros al mes.Solicito La Ayuda de Familia.
You have to upload or take with you to the appointment the following documents:
Application form and Bank detail form.
DNI or NIE or Passport of all household members.
Vida Laboral Informe/ Employment history from Social Security. Choose option SMS to use you Telephone PIN.
A certificate of Benefits from SEPE. https://sede.sepe.gob.es/portalSede/procedimientos-y-servicios/personas/proteccion-por-desempleo/obtencion-de-certificados.html
Or a letter from your employer stating the amount of ERTE you get.
Proof of family unit eg Libro de Family,
or put explanation why people empadronado in the same home are not a household, eg Flat mates "companeros de piso".
Evidence of other benefits. Last three months bank statement.Any other certificate of benefits eg UK pensioners a P60.
If anyone has a disability greater than 65% they should include a resolution letter or disabled card.