Following several requests from people coming on holiday to Benidorm for an oxygen concentrator and the fact that it had to be hired at great expense to take sick people back to the UK ,we purchased our own machine for short term loan. It is a Respironics Evergo and is dual use either portable battery powered or mains operated for use overnight.
Please note this model is pulse flow breath activated, so may not be suitable for people who need continuous flow while sleeping such as using a CPAP machine as well. It is not suitable for use with a nebuliser.
We can also have Respironics Everflow, a static continuous flow machine if required. This can be used with a CPAP machine.
Our nurse Jackie will supply it with all accessories. If anyone needs to loan it please call her on +34 607 386 964 or leave a message on our contact page.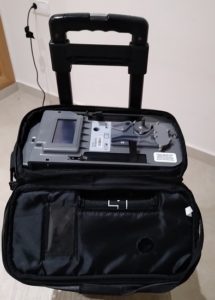 Oxygen concentrators can also be hired from a commercial company. https://oxystore.es/content/36-alquiler-concentradores-de-oxigeno-y-cpap
They will require a prescription/letter from your doctor and a deposit.
They charge 150 euros for the first week plus 49.99 euros for carriage delivery and return.
For subsequent weeks they charge 75 Euros.